Welcome to Noor Wood
Where are we?
Noor Wood is situated in the ancient parish of Tortington in the largest block of Ancient Semi Natural Woodland, south of The Downs in Sussex within the South Downs National Park. It has been designated a Site of Nature Conservation Importance (SNCI) by the West Sussex County Council.
About the wood
The Wood comprises 1.8 hectares (4.5 acres) and is rectangular in shape, marked out by accessible paths and rides to the north, south and west, and by a stream to the east.




Our Trees
Hazel (Corylus avellana) are the dominant species with birch (Betula pendula) sweet chestnut, oak, willow, sycamore and a handful of larch. We also have one old and majestic veteran yew.




The Glade
When we acquired the wood in 2012 it was overgrown and the interior was dark and very gloomy. The previously coppiced hazel had been neglected over the years and the woodland floor was starved of light by a thick canopy above that restricted the growth of bluebells and other wildflowers from growing beneath. One of our first priorities was to allow more light to flood in and bring life back into the wood. We thus renamed the wood "Noor" (nur) which means 'light' ( in Arabic )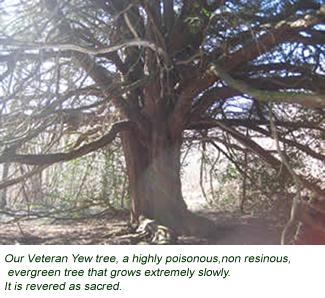 There is a glade which is presently covered with bracken, nettles and grass and bordered on one side by mature gorse. Historic documents suggest that the woodland was once part of a heath,and this is still evident in places where we have found traces of heather growing - something we wish to encourage back.